Gentle yet effective cleanser that works as a mild shampoo. This cleansing cream does not lather like many commercial shampoos but it will leave your hair clean and conditioned.
If your hair has a lot of product buildup we recommend clarifying with Aloe Apple Cider Rinse before using this product.
Directions: Divide hair in 4 sections and wet hair thoroughly. Start with applying a quarter size of cream to hair, use more depending on hair texture and length. (This product does not produce a lather, you will see a few bubbles when rinsing.) Rinse thoroughly and proceed with LaverMint Conditioner or Glorious Growth Strengthening Mask depending on your needs.
Ingredients: Distilled Water, Polyglucose Lactylate, Alkyl Denzoate, Glycine Betaine, (Beet Sugar Extract), (BTMS) Emulsifying Conditioner, Vegetable Glycerin, Propanediol, DL-Panthenol 100, Ayurvedic Herbal Blend, Citric Acid, Potassium Sorbate, Essential Oil Blend, Natural Fragrances

--
Glorious Growth Cleansing Creme 8 oz
Customer Reviews
Write a Review
Ask a Question
09/30/2020
Anonymous
United States
I recommend this product
My only shampoo
This is the only shampoo I've been using for about 5 months now. I have two bottles right now because whew when you need to wash your hair but you ran out.. I always make sure to re-up before I run out. Not heavy at all. Cleans my hair. Doesn't leave any smell or anything. The smell of the shampoo itself is not super strong. Altogether a great product and the only shampoo I use personally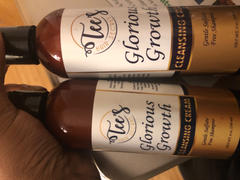 08/20/2020
Anonymous
United States
I recommend this product
It's great
I love it! I think the products are great
08/05/2020
Anonymous
United States
I recommend this product
I love the Shampoo it's amazing